Extra Loud Alarm Clock with Bed Shaker, Vibrating Alarm Clock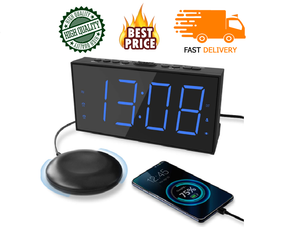 Set Lowest Price Alert
×
Notify me, when price drops
Set Alert for Product: Extra Loud Alarm Clock with Bed Shaker Vibrating Alarm Clock for Heavy Sleepers - $35.68
All prices mentioned above are in United States dollar.
This product is available at Amazon, Walmart, eBay.
At amazon.com you can purchase Loud Alarm Clock with Bed Shaker, Vibrating Alarm Clock for Heavy Sleepers, Deaf and Hard of Hearing, Dual Alarm Clock, 2 Charger Ports, 7-Inch Display, Full Range Dimmer and Battery Backup - Green for only $27.99, which is 22% less than the cost in eBay ($35.68).
The lowest price of Extra Loud Alarm Clock with Bed Shaker Vibrating Alarm Clock for Heavy Sleepers was obtained on June 17, 2021 3:20 am.
Last updated on June 17, 2021 3:20 am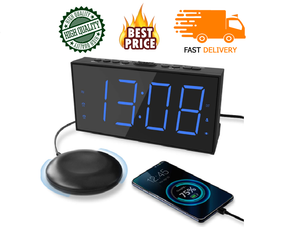 Extra Loud Alarm Clock with Bed Shaker, Vibrating Alarm Clock
Description
⏰【Wake by 𝗦𝘁𝗿𝗼𝗻𝗴 𝗕𝗲𝗱 𝗦𝗵𝗮𝗸𝗲𝗿 & 𝗟𝗼𝘂𝗱 𝗕𝘂𝘇𝘇𝗲𝗿】- Differ from regular alarm sound clock, our 𝗹𝗼𝘂𝗱 𝗮𝗹𝗮𝗿𝗺 𝗰𝗹𝗼𝗰𝗸 comes with 3 innovative alarm methods: loud buzzer, super bed shaker or both sound and shaker, actually make it easier to wake you up from deep sleep. Simple press the "BUZZ/VIB" button to choose your favorite wake-up modes for maximum impact. The bed shaker alarm clock is also a perfect option for heavy sleepers, hearing impaired, deaf or hearing loss.

🔊【Strong Wired Vibration Shaker & Adjustable Volume】- The 𝘃𝗶𝗯𝗿𝗮𝘁𝗶𝗻𝗴 𝗮𝗹𝗮𝗿𝗺 𝗰𝗹𝗼𝗰𝗸 features with 71" wired bed shaker which is long enough to be placed under the mattress. It can produce a strong vibration to shake you awake without disturbing others. The alarm sound volume is 4-level adjustable to meet your different needs. Combing the highest volume level and powerful bed shaker, you can be reliably waken up on time even for heavy sleeper.

😴【Dual Alarm Clock & Big Snooze Function】-The 𝗱𝘂𝗮𝗹 𝗮𝗹𝗮𝗿𝗺 𝗰𝗹𝗼𝗰𝗸 allows you to set two separated alarms easily especially handy for couples or roommates who keep different schedules. When the alarm goes off, lightly touch the big snooze button to turn off temporarily and get extra 9 minutes sleep before alerting you again. You can also press the "ALARM PAUSE" or "ALARM OFF" to turn off the alarm for 24hours or permanently respectively.

🔅【7.5'' Large Display & 5 levels Brightness Dimmer】-With 7.5'' big LED display, the numbers on the 𝗯𝗲𝗱 𝘀𝗵𝗮𝗸𝗲𝗿 𝗮𝗹𝗮𝗿𝗺 𝗰𝗹𝗼𝗰𝗸 are ultra-clear to see from a long distance or across the bedroom even without glasses. 5 level adjustable screen brightness help you avoid high-intensity light while you are asleep or easily view the time in the daytime.

🔋【Electric Powered with Battery Backup】- All functions of the 𝗯𝗲𝗱𝗿𝗼𝗼𝗺 𝗮𝗹𝗮𝗿𝗺 𝗰𝗹𝗼𝗰𝗸 work under AC power (input power 100-240V), 2pcs AAA backup batteries (NOT Included) are only used to memorize time and alarm settings when encountering power outrage. During the backup battery, the screen will go blank but the alarm will still be triggered.

📱【USB Charger Port Design & 12/24H Format】- The 𝗮𝗹𝗮𝗿𝗺 𝗰𝗹𝗼𝗰𝗸 𝘄𝗶𝘁𝗵 𝗨𝗦𝗕 𝗰𝗵𝗮𝗿𝗴𝗲𝗿 port (5V/1A) provides the convenience for charging your phone or other device safely while you sleep. The 12/24H format and DST function are also available by pressing the corresponding buttons.

🎁【Easy to Operate & Wide Application】- With the intuitive setting buttons, the 𝗮𝗹𝗮𝗿𝗺 𝗰𝗹𝗼𝗰𝗸 𝗳𝗼𝗿 𝗵𝗲𝗮𝘃𝘆 𝘀𝗹𝗲𝗲𝗽𝗲𝗿 is easy to use even for kids or elders. Updated features such as vibration, dual alarm, dimmer, USB charging port and modern design, the digital alarm clock can be as a perfect gift for your family, friends, kids. Note: We provide 18 months warranty and 30 days free return, if you have any questions, please contact us.
Extra Loud Alarm Clock with Bed Shaker, Vibrating Alarm Clock Prices
Additional information
Specification:
Extra Loud Alarm Clock with Bed Shaker, Vibrating Alarm Clock
Reviews (12)
12 reviews for
Extra Loud Alarm Clock with Bed Shaker, Vibrating Alarm Clock