Sale! 24000 BTU Mini Split Air Conditioner with Heat Pump Remote and Installation Kit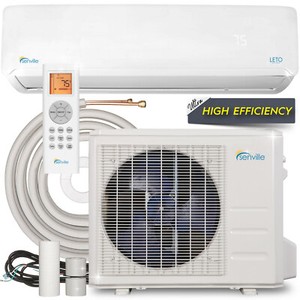 Buy now
ebay.com
Features
Year Manufactured: 2016
Model: SENL-09CD
Number of Fan Motors: 1
Power Source: Corded Electric
Control Style: Remote Control
Number of Zones: 1
Energy Star: Compliant, Not Compliant
Voltage: 208/230 V
MPN: SENL24CD
Power Phase: 1 Phase
BTU Cooling Rating: 24000-24999 BTU
Area Covered: Greater Than 1000 sq ft
Custom Bundle: No
Timer Control: 24 Hours
Refrigerant: R-410a
Color: White
Tonnage: 2-2.9 tons
Features: Indoor
Size: 2 tons
Number of Compressors: 1
EAN: 0893088008040
Type: Ductless Mini Split Air Conditioner
Modified Item: No
Number of Cool Speeds: 3
Room Coverage Area: 1000 to 1249 sq ft
Mounting Location: Wall
Heating Wattage: 2200
Material: Plastic
Cooling Wattage: 2500
SEER Rating: 17
BTU Heating Rating: 20000-24999 BTU
Heating System: Forced Air/Fan
Manufacturer Warranty: 5 Years
Number of Heat Settings: 1
Compressor Type: Rotary & Impeller
System Configuration: Downflow
Items Included: Drain Hose, Duct Kit, Remote Control
UPC: 0893088008040
Description
About this product Product Information The Senville SENL-24CD Air Conditioner maintains a comfortable environment. It is a ductless mini split air conditioner, which achieves the Seasonal Energy Efficiency Ratio (SEER) of 15 for low energy consumption. Product...
User reviews
This monstrosity took me five weeks to get up and running. I'm a builder and doing stuff like this is usually pretty easy for me. YOU MUST HAVE A PROFESSIONAL VACUUM THE LINES! Another review said that AutoZone has the vacuum pump you can borrow. They do, but it won't work on these fittings. Frankly, it was not nearly as easy as others have said, but the biggest problem is getting it vacuumed. If you call HVAC companies, they will either refuse to do the service or try to charge you $750+. Go to Craigslist and place an ad for an HVAC guy to come out and do it privately, they'll do it for $100. Make sure to use Nylog on the fittings on the refrigerant piping. Now when I finally got it working, this thing is amazing! The compressor is totally silent and the indoor unit in silent, too. The air coming out is COLD. Will be interesting to see the heat function when summer is over.
Good Product - SO FAR - Installation Instructions and Videos ARE THE WORST EVER ! If I weren't an Engineer, I would not have been able to install it based on what they provided. ADDITIONALLY, YOU MUST BUY A WALL MOUNT OR GROUND STAND FOR THE OUTSIDE UNIT !!! YOU MUST ALSO HAVE A VACUUM PUMP AND METERS TO MEASURE THE EVACUATION OF THE LINE SET. NOT SOMETHING THE AVERAGE JOE HAS - NEEDS AN A/C PERSON OR YOUR OWN EQUIPMENT TO EVAC PROPERLY. COST ME $100.00 ADDITIONALLY !
I installed this in an uninsulated 2 car garage that has our washer and dryer in it also. It's 100 degrees outside and this unit has no problem maintaining 75 degrees or even lower. This is a great unit for the price and I was able to install everything myself. I did have a friend pull a vacuum and open the refrigerant after everything was installed. The insulation wrap included is worthless and doesn't stick to itself. A line set cover and better tape will be needed if you want it done right. You will also need all the electrical including a double pole breaker for your panel, an AC disconnect mounted close to the outdoor unit and all associated wire and conduit. I bought 25' of red, black, green #10 THHN wire from Home Depot. Drilling a hole in the brick proved to be the biggest headache and I ended up taking an entire brick out and chiseled it down and then reset it with mortar. All in all I installed everything for $1100 and would have paid 900-1100 in labor to have it professionally installed. The price of installation will buy a complete new unit, so I couldn't pay that.