Sale! Google Chromecast with Google TV – 4K – Snow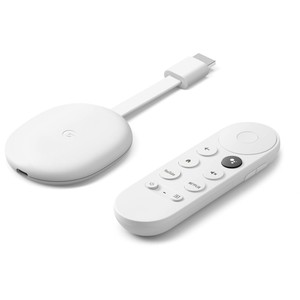 Buy now
ebay.com
Features
Model: Google Chromecast with Google TV
Features: 4K
Maximum Resolution: 2160p
Color: White
Operating System: Android
MPN: GA01919-US
Product Line: Google Chromecast
Audio/Video Outputs: HDMI
Connectivity: HDMI
Type: Chromecast
Processor: Quad Core
UPC: 193575007229
User reviews
I haven't even scratched the surface of all its features so far but I have found it to an incredibly useful piece of technology. I have employed it assist my elderly father to access Netflix & for that specific purpose I have found it brilliant. Ii my opinion its totally worth the money.
First thing I noticed is how easy it is to set up. They really did a great job on the simplicity of the platform. I also use it with the Google nest so it's fun to turn the system on and off with my voice. I did notice right away that it would buffer quite a lot, so I increased my internet speed substantially and still no improvement. Today, I decided to simply use the Smartcast feature on my smart TV instead and it works wonderfully, no buffering and a substantially better quality picture as well. I was a die hard Apple TV user before switching to Google TV and unfortunately it was a big disappointment. I think most new TV's will likely outperform these aftermarket devices anyway. If your looking for a way to access a variety of internet TV subscriptions, I wouldn't choose this product just yet. Hopefully they'll improve it in the near future.
Having a remote really makes all the difference from previous versions of Chromecast devices. Update process for the software is really good. Having Google TV as the interface really brings a good look and feel. I hope they bring more or missing features in future software versions.