Sale! Shadowhawk Super-bright 90000lm Flashlight LED P70 Tactical Torch + battery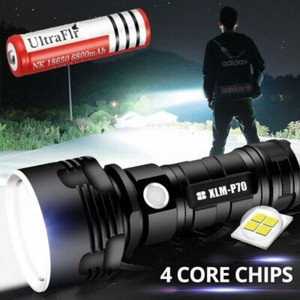 Buy now
ebay.com
Features
Model: P70
Type: Tactical
Battery Type: 26650
Features: Attack Head/Spikes, Batteries Included, Handheld, Rechargeable, Strobe Light, USB Rechargeable, Waterproof
Brightness: 6000 Lumens and above
MPN: P70
Material: Aluminum alloy
high power battery: last for a few hours when fully charged
Bulb Type: LED
UPC: 714453173463
User reviews
The Shadowhawk is definitely a bright flashlight! Battery life per charge is better than expected. This flashlight is easy to use with just a one-button push for the functions. Seems to be well built and durable. My only complaint is that when you turn it on, it is on high beam then you have to press the button again, which goes to low beam, then you have to press the button again which takes you to strobe and finally, you press the button again to turn it off. It is cumbersome to have to toggle through all the functions just to turn it off. Had it not been for this one drawback, I would have given the Shadowhawk a five-star rating. With that said, I would still highly recommend this flashlight for home use (think power outages), camping, hunting, and definitely one in the glove box of your vehicle for traveling. I would definitely buy this flashlight again!
While this light is a cree 70 it is a fixed beam meaning only 1 beam option I would have rated higher except for the fact it doesn't allow for any distance adjustment so basically on off it is bright enough but only cast about 5-7 feet of light others that I own are much better at distance lighting this type of light is a reminder of the old ray o vac flash light used to be in the glove box still a useable light but needs to be upgraded thanks
I like the size and the 3 way light beam options. Although I like the adjustable beam tactical flashlight I have, its nice to have the Shadowhawk for its cost, size and brightness. I've yet to use it enough to know it's battery power strength/time frame.