Sale! Sony WH-1000XM4 Wireless Noise-Cancelli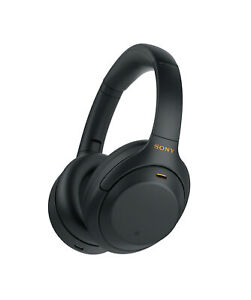 Buy now
ebay.com
Features
Number of Earpieces: Double
Connectivity: Bluetooth
Manufacturer Color: Black
Form Factor: Headband
Microphone Type: Built-In
Color: Black
MPN: WH1000XM4
Features: Noise Cancellation, Foldable, Built-in Microphone, Adjustable Headband, Closed Back
Wireless Technology: Bluetooth
Model: WH-1000XM4
Type: Ear-Cup (Over the Ear)
UPC: 027242919419
EAN: 0027242919419
Description
About this product Product Identifiers Brand Sony MPN WH1000XM4 GTIN 0040962845615 UPC 0027242919419, 0040962889138 Model WH-1000XM4 eBay Product ID (ePID) 18040267377 Product Key Features Number of Earpieces Double...
User reviews
4 stars for the product simply because the microphone, which I use often, was not as great as I had hoped; nonetheless they provide a beautiful listening experience. Some of my favorite features include pairing 2 bluetooth devices at once, the programmable button and touch gestures, and the ability to listen to ambient noise by placing my palm onto the right hand side of the headphones. I bought these to replace and upgrade my old Sony Hear.on headphones and I was pleased to find that the range was much longer. Additionally, the case for these headphones has a better, more portable design. I am not an audiophile, but I do enjoy listening to music on Spotify for long periods of time and streaming movies for their full duration. I can safety say that I am happy with the audio quality, and the ability to keep the headphones on for a long period of time without having too much discomfort. I hope Sony's future iteration provides a better microphone, or allows for an optional external microphone similar to those used on gaming headsets.
The overall quality is pretty good, but eBay's star descriptions are "it's okay" for 3 stars and "better than expected" for 4 stars. Given the price and hype, this product is just okay. In rough order of importance, I wanted: active noise cancelling, good audio quality, comfort, wireless, over ear, and good battery life. The XM4 mostly fits those needs. The issues are: - When sitting, the headset can become uncomfortable on the top of my head within an hour. On the other hand, I have multiple headsets I could wear all day, such as the Sennheiser GameOne and the Audio Technica M50X. - When laying down, the headset turns itself off every so often, even if I'm listening to music. This isn't the power button being accidentally pressed, but some sort of orientation and movement detection. The headphones don't stay on too well in this position, so it's important to stay still so you don't need to keep adjusting them, but then they'll just turn off. - When I try to switch devices, it sometimes pretends to do so then fails, and other times it ignores my request. I've learned that I need to be ready on the new device to immediately select the XM4 in settings within a few seconds of turning the XM4 on. Sometimes I need to actively disconnect the XM4 from the previous device first. It doesn't matter that the other device is asleep and not playing any sound. - When sound is passed through the ANC, it doesn't quite sound natural. - There's something that's slightly off about the way noise cancelling feels to my ears. I've heard other people complain about the "pressure" not being correct inside the ear cups and that could be it. - Sometimes I accidentally brush the touch interface, such as when adjusting the headphones, and skip or repeat a song. I think I'll get use to grabbing only the edges of that earcup, but I would have preferred I didn't need to be so careful to avoid wrong inputs. - These pause music when you take them off, but don't resume when you put them back on. I think resume happens automatically if you put them back on within 5 seconds or so, but that's not very helpful. Easy enough to tap the side of the earcup to resume though. So while it works well enough, I'm still defaulting to use my older, cheaper, wired, non-ANC headsets when I don't actively need those features. I was really hoping that this would be a more solid choice given all the hype I had been hearing. Especially when the Apple Airpod Max was announced, everyone said to just get the XM4 for half the price. If these were stolen from me and I needed a new ANC headset, I'd probably buy something else, but I don't know if I'd go for a cheaper pair or one from Apple.
These headphones replaced Beats studio 3 over the ear noise cancelling. The sound quality is superior to the Beats, the fit and weight are similarly good. The Sony XM4 head phones have a considerable number of options including an IOS/Andriod optimization app. I am using a apple iphone X with the most current IOS. The battery life is considerable at greater than 20 hours which compares to the 8 hours of my prior beats. The sound cancellation is far superior to the prior Beats, however, the software is always adapting to the surrounding location, movement and ambient sounds causing fluctuations in the external noise suppression causing an external noise source to randomly increase and decline in volume. This issue is primarily an issue with significant and changing external noise sources, so not typically an issue. The touch sensitive controls on the side of the head phones works most of the time, however, I often have issues connecting to an incoming call as it will not transfer to the head phones or respond to the double tap on the touch panel. I have a Samsung smart TV with blue tooth audio connectivity and the audio will break up with the XM4 head phones at a distance of